10 ft High Striker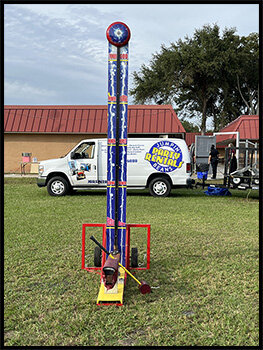 Description
Are you looking for a fun and exciting attraction for your next event or carnival? Look no further than our 10' Tall Hi-Striker! This classic game is sure to entertain both kids and adults alike.
The 10' Tall Hi-Striker is a test of strength and skill. Participants use a mallet to strike a lever, sending a puck up a tower. The goal is to hit the target at the top of the tower, ringing the bell and proving their strength. It's a thrilling challenge that never fails to draw a crowd and create a buzz of excitement.
Our Hi-Striker is built to impress. Standing at an impressive 10 feet tall, it's impossible to miss. The tower is made of sturdy and durable materials, ensuring safety and reliability for all participants. The bright and vibrant colors make it visually appealing and eye-catching, attracting people from all around.
Whether you're hosting a company picnic, a school fair, a community event, or a private party, the 10' Tall Hi-Striker is a fantastic addition. It's not only a source of entertainment but also a great way to promote friendly competition and create lasting memories.
Our team will take care of all the setup and takedown, making it hassle-free for you. We prioritize safety and will provide clear instructions for participants to ensure a fun and secure experience.
So, if you're looking to add some excitement to your next event, consider renting our 10' Tall Hi-Striker. It's a guaranteed hit that will leave everyone talking about your event for years to come. Contact us today to book this thrilling attraction and make your event one to remember!