2 LANE SLIP N DIP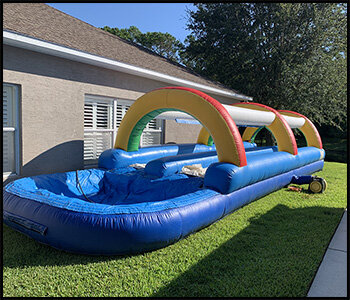 Actual Size: 33' x 9' x 8'
Description
Introducing the thrilling 2 Lane Slip N Dip! Get ready for the ultimate racing experience as you and your friends compete side by side in a high-speed adventure down two wide lanes. This exhilarating water slide is designed to provide endless fun and excitement for all ages.
With its two spacious lanes, the Slip N Dip allows you to challenge your friends or family members to a thrilling race to the finish line. Feel the rush of adrenaline as you slide down the slippery surface, gaining momentum with every twist and turn. The separate lanes ensure fair competition, allowing everyone to showcase their speed and agility.
But the excitement doesn't end there! At the end of the slide awaits a massive, refreshing pool, ready to embrace you with a splash. Imagine the thrill of landing in the water after a heart-pounding race, cooling off and celebrating your victory or cheering on your fellow racers.
Safety is our top priority, and the 2 Lane Slip N Dip is designed with that in mind. It features a durable and puncture-resistant construction, ensuring a secure and worry-free sliding experience.
Whether you're planning a backyard party, a community event, or a summer gathering, the 2 Lane Slip N Dip is guaranteed to be the highlight of the day. It's a perfect addition to any water-themed event, providing endless laughter, friendly competition, and unforgettable memories.
So, gather your friends, put on your swimsuits, and get ready for an epic race down the 2 Lane Slip N Dip. Experience the thrill, the speed, and the refreshing splash as you conquer the lanes and make a splash in the giant pool at the end. It's time to turn your backyard into a water park and create memories that will last a lifetime!