3 Play Sports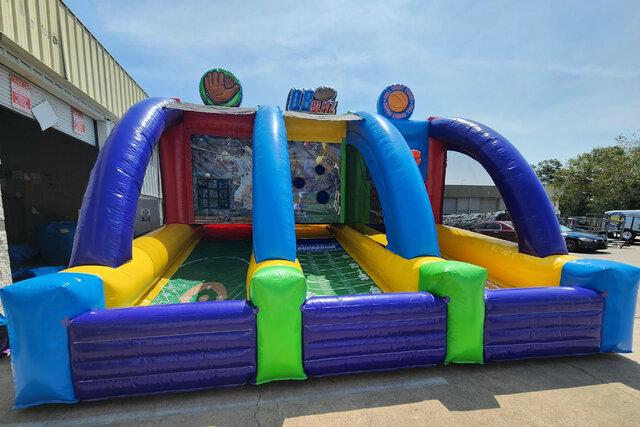 Description
Introducing the 3 Play Sports Inflatable, the ultimate multi-sport experience for all ages! This innovative inflatable features three action-packed lanes that cater to the sports enthusiast in you. Whether you're a football fanatic, basketball buff, or baseball aficionado, this inflatable has got you covered.
With its spacious design, the 3 Play Sports Inflatable allows you to engage in thrilling games and competitions with friends and family. The football lane lets you showcase your throwing skills, as you aim for the target and score touchdowns like a pro. The basketball lane challenges you to shoot your way to victory, testing your accuracy. And for all the baseball lovers out there, the dedicated lane lets you practice your aiming for the designated targets.
Crafted with top-quality materials, this inflatable ensures durability and safety, allowing you to enjoy hours of endless fun without any worries. Its vibrant colors and eye-catching design create an inviting atmosphere, making it the center of attention at any event or gathering. Whether it's a backyard party, a school event, or a community fair, the 3 Play Sports Inflatable guarantees non-stop entertainment for everyone.
Setting up this inflatable is a breeze, thanks to its user-friendly design and quick inflation system. It can be easily transported and stored, making it a convenient choice for both indoor and outdoor use. So, whether you're hosting a sports-themed party, organizing a team-building activity, or simply looking to add excitement to your backyard, the 3 Play Sports Inflatable is the perfect addition to take your sporting experience to the next level.
Get ready to unleash your inner athlete and create unforgettable memories with the 3 Play Sports Inflatable. Bring the thrill of football, basketball, and baseball to your doorstep and let the games begin!