40' Obstacle Courses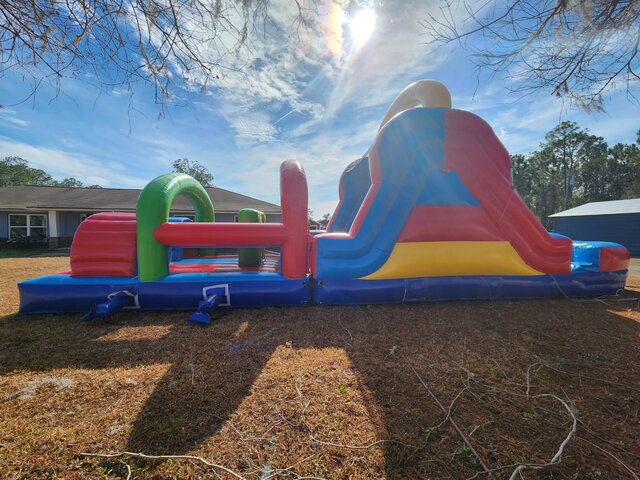 Actual Size: 40'x13'x16'
Outlets: 2
Description
Looking for an exciting and thrilling addition to your upcoming event? Look no further than our incredible 40' Obstacle Course! This incredible attraction is perfect for both kids and adults, offering a heart-pumping experience that will leave everyone wanting more.
Our 40' Obstacle Course is designed with fun and safety in mind. It features a variety of challenging obstacles, including tunnels, climbing walls, and slides, ensuring that participants will have a blast while testing their agility and endurance. Whether you're hosting a birthday party, corporate event, or school carnival, this obstacle course is guaranteed to be a hit.
One of the standout features of our 40' Obstacle Course is the large pool at the end. This adds an extra level of excitement and adventure to the experience. Participants can choose to rent the obstacle course either wet or dry, depending on their preferences and the nature of the event. Renting it wet allows participants to slide down the final slide and splash into the refreshing pool, while renting it dry provides a challenging and exhilarating experience without the water element.
Renting our 40' Obstacle Course wet is perfect for those hot summer days when everyone is looking for a way to cool off. The pool at the end provides a refreshing and enjoyable way to beat the heat. On the other hand, renting it dry is a fantastic option for events held indoors or during cooler months, ensuring that the fun can continue no matter the weather.
Safety is our top priority, and our 40' Obstacle Course is designed with the highest standards in mind. It is made from durable materials and undergoes regular inspections to ensure that it meets safety regulations. Our trained staff will also be present to provide guidance and assistance throughout the rental period, ensuring that everyone can enjoy the obstacle course with peace of mind.
So, whether you're planning a birthday party, company picnic, or any other special occasion, make sure to include our 40' Obstacle Course in your event. With its thrilling obstacles and the option to rent it wet or dry, it's guaranteed to provide hours of fun and excitement for all ages. Contact us today to reserve this incredible attraction and make your event one to remember!