60' Obstacle Courses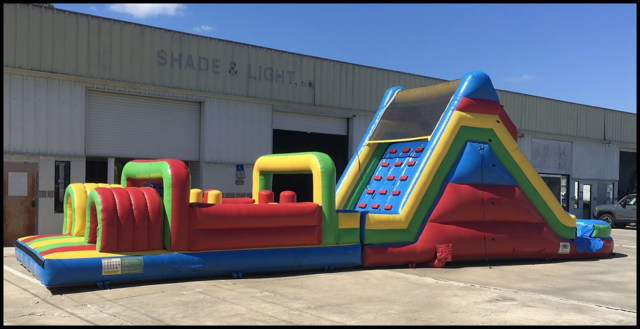 Description
Are you ready for an exhilarating challenge? Look no further than our 60' obstacle course! Designed to push your limits and test your skills, these courses are perfect for individuals, groups, or even competitive events.
Our 60' obstacle course is meticulously crafted with various obstacles strategically placed to create a thrilling and unforgettable experience. From crawling through tunnels to scaling walls, jumping over hurdles, and navigating through tight spaces, these courses offer a wide range of challenges that will keep you on your toes.
Whether you are planning a birthday party, corporate team building event, or a school field day, our 60' obstacle courses are guaranteed to be a hit. Not only do they provide hours of entertainment, but they also promote physical fitness, problem-solving skills, and teamwork.
Safety is our top priority, and our obstacle courses are built with high-quality materials that meet industry standards.
So, if you're looking for an adrenaline-pumping adventure that will challenge and entertain both kids and adults alike, our 60' obstacle course is the perfect choice. Contact us today to book your next event and get ready to conquer the course!