Bat Cave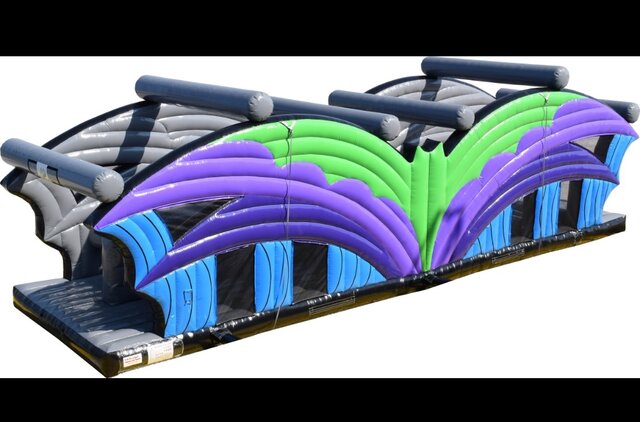 Actual Size: 52' L x 16' W x 16' H
Description
Welcome to the Bat Cave obstacle course! Get ready for an epic adventure like no other. This massive obstacle course is designed to provide endless fun and excitement for participants of all ages. With its expansive size and thrilling features, it's perfect for large events and gatherings.
One of the standout features of the Bat Cave obstacle course is its incredibly spacious bounce area. This area allows participants to jump, bounce, and soar to their heart's content. Whether you're hosting a corporate event, a school carnival, or a neighborhood block party, this bounce area is sure to be a hit with everyone.
Designed with safety and durability in mind, the Bat Cave obstacle course is constructed using high-quality materials. From the sturdy inflatable walls to the reinforced seams, every detail has been carefully considered to ensure a safe and enjoyable experience for all participants.
This incredible obstacle course is not only a source of entertainment but also a great way to promote physical activity and healthy competition. It encourages participants to push their limits, overcome obstacles, and have a blast while doing so.
Whether you're planning a company picnic, a school fair, or a community event, the Bat Cave obstacle course is an excellent addition to your lineup. Its size, bounce area, and thrilling features make it an attraction that will leave a lasting impression on your guests.
So, why settle for ordinary when you can take your event to the next level with the Bat Cave obstacle course? Get ready to create unforgettable memories and provide an unforgettable experience for everyone involved.