BIG SPLASH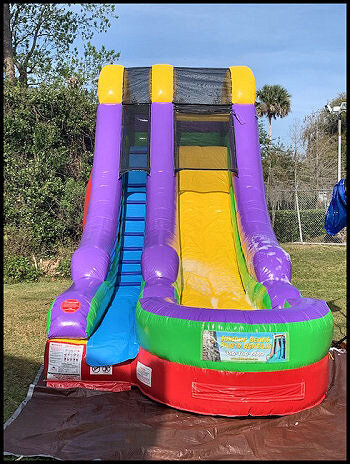 Actual Size: 30'L x 13'W and 18'
Description
Introducing the Big Splash Slide - an exhilarating water slide standing tall at 18 feet! With its impressive height, this slide is sure to make a big splash at any event or water park. The front load design ensures a smooth and safe experience for riders, while the single lane allows for maximum enjoyment and competition among friends and family.
The Big Splash Slide is designed to provide endless fun and excitement for all ages. Whether you're hosting a summer party, organizing a community event, or simply looking to add some thrills to your backyard, this slide is the perfect addition to any water-filled adventure.
Not only does the Big Splash Slide offer an unforgettable experience, but it also adds a visually stunning element to any setting. Its vibrant colors and eye-catching design are guaranteed to attract attention and create a focal point that will leave a lasting impression on your guests.
So why wait? Take your water-based activities to new heights with the Big Splash Slide. Get ready to make a big splash and create unforgettable memories with this incredible 18-foot tall, front load, single lane water slide.