DOLPHIN SLIDE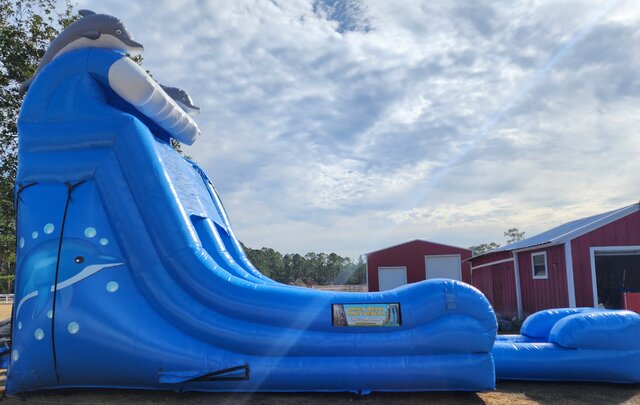 Description
Introducing the Spectacular Dolphin Slide: A Thrilling Single Lane Water Slide Standing Tall at 18 Feet!
Are you ready to make a splash at your next event or water park? Look no further than the exhilarating Dolphin Slide! This incredible single lane water slide is designed to provide endless fun and excitement for all ages.
Standing an impressive 18 feet tall, the Dolphin Slide is sure to catch the attention of thrill-seekers and water enthusiasts alike. Its vibrant colors and eye-catching design will instantly create a sense of anticipation and adventure.
With its smooth and slippery surface, riders will experience a thrilling descent as they slide down the Dolphin Slide. The single lane ensures that each rider gets their own exhilarating experience, without any distractions or delays.
Safety is our top priority, and the Dolphin Slide is no exception. It is constructed with high-quality materials that meet industry standards, ensuring a secure and enjoyable experience for all riders. The slide is equipped with safety features such as sturdy handrails and non-slip steps, providing peace of mind for both participants and event organizers.
The Dolphin Slide is perfect for a variety of occasions, including birthday parties, corporate events, and festivals. Its compact size makes it easy to set up in any location, whether it's a backyard or a large event space.
Not only will the Dolphin Slide provide hours of entertainment, but it will also leave a lasting impression on your guests. Imagine the smiles and laughter as they experience the thrill of sliding down this magnificent structure. It's an experience they won't soon forget!
So, why wait? Make a splash and bring the excitement of the Dolphin Slide to your next event. Contact us today to book this incredible attraction and create unforgettable memories for everyone involved.