Double Lane Pirate Combo 2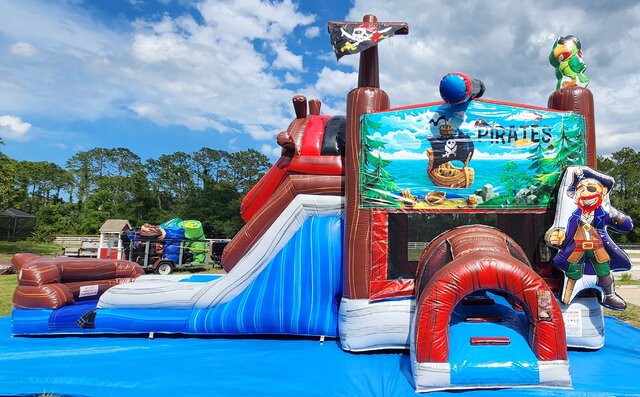 Actual Size: 29' L x 16' W x 15' H
Outlets: 2
Description
The Double Lane Pirate Combo is the ultimate adventure for all aspiring swashbucklers. Whether you choose to set sail on the high seas or embark on a dry land adventure, this inflatable combo will provide endless fun and excitement.
In its wet configuration, the Double Lane Pirate Combo features two exhilarating water slides that will have kids sliding down into a splash pool, simulating the thrill of diving into the ocean. The pirate-themed design adds an extra layer of excitement, with vibrant colors and detailed graphics that will transport young adventurers to a world of treasure hunts and epic battles.
For those who prefer to keep their feet on solid ground, the Double Lane Pirate Combo can also be used in a dry setting. The two slides can be used for racing competitions, challenging friends and family to see who can reach the bottom first. The spacious bouncing area provides ample room for jumping, bouncing, and imaginative play, allowing kids to unleash their inner pirates and create their own high-seas adventures.
Safety is always a top priority, and the Double Lane Pirate Combo is designed with that in mind. It is made from high-quality materials that are durable and built to withstand hours of play. The inflatable walls and safety netting ensure that kids can enjoy their pirate escapades in a secure environment.Whether you're hosting a backyard party, a community event, or a summer camp, the Double Lane Pirate Combo is sure to be a hit. It offers the perfect combination of thrilling water slides and exciting dry land activities, making it a versatile and crowd-pleasing choice for any occasion. So, get ready to set sail and let the adventure begin with the Double Lane Pirate Combo