DOUBLE LANE RAMPAGE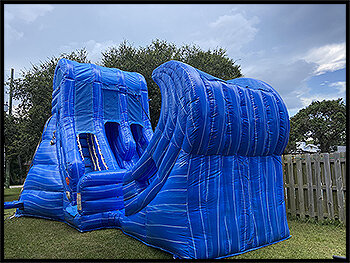 Actual Size: 26'L x18'W x21'H
Description
Introducing the DOUBLE LANE RAMPAGE slide! Building on the success of our single lane version, we are thrilled to offer an exciting new experience for thrill-seekers of all ages. Prepare yourself for the ultimate adrenaline rush as you take on this steep slide with its unique half pipe action.
Designed to provide non-stop excitement, the DOUBLE LANE RAMPAGE slide offers a thrilling ride that will leave you wanting more. As you descend, feel the rush of wind in your face and the exhilaration of speed. But the excitement doesn't end there! Experience the heart-pounding thrill of sliding back up the other side, defying gravity and challenging your limits.
This slide is not just for kids - it's a blast for adults too! Whether you're a parent looking to join in on the fun or a group of friends seeking an unforgettable adventure, the DOUBLE LANE RAMPAGE slide guarantees an unforgettable experience for all.
Safety is our top priority, and we have taken every measure to ensure a secure and enjoyable ride. Our slide is constructed with high-quality materials and features sturdy stairs and safety netting, providing peace of mind for riders of all ages.
Perfect for parties, events, or simply adding excitement to your backyard, the DOUBLE LANE RAMPAGE slide is a must-have for any thrill-seeker. Get ready to make memories that will last a lifetime and create an atmosphere of pure excitement and laughter.
Don't miss out on the fun - be one of the first to experience the DOUBLE LANE RAMPAGE slide and take your entertainment to new heights. Contact us today to learn more about this exhilarating addition to our lineup and bring the thrill of the half pipe action to your next adventure!