DOUBLE TIKI CURVE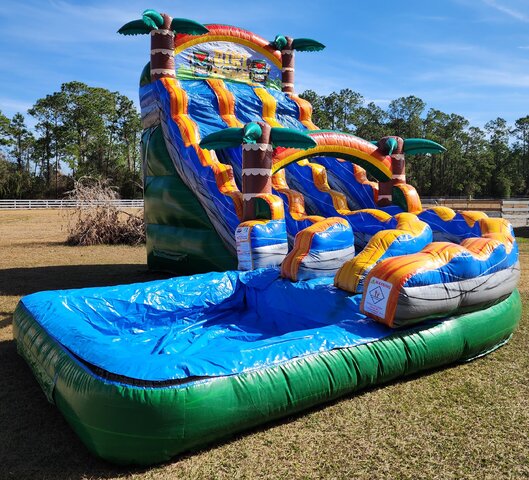 Description
Introducing the Double Tiki Curve Slide: An Exciting 18' Tall Curved Slide with a Tropical Twist!
Are you ready to add a thrilling and exotic touch to your next event or playground? Look no further than the Double Tiki Curve Slide! Standing at an impressive 18 feet tall, this curved slide is designed to provide endless hours of excitement for children and adults alike.
One of the standout features of the Double Tiki Curve Slide is its unique tiki theme. Inspired by the tropical paradise, this slide is adorned with vibrant colors, intricate tiki carvings, and exotic patterns. The attention to detail in the design will transport you to a world of Polynesian charm and adventure.
Safety is always a top priority, and the Double Tiki Curve Slide is no exception. Constructed with high-quality materials, it ensures a sturdy and secure experience for all users. The curved shape of the slide adds an extra element of thrill, allowing riders to experience twists and turns as they descend to the bottom.
The Double Tiki Curve Slide is not only a great addition to outdoor playgrounds but also a fantastic choice for special events, parties, and even water parks. Its eye-catching design and exhilarating ride will undoubtedly leave a lasting impression on anyone who experiences it.
Whether you are looking to create a tropical-themed playground, spice up your event, or simply add a touch of excitement to your backyard, the Double Tiki Curve Slide is the perfect choice. Get ready to embark on a thrilling adventure with this impressive 18' tall curved slide that combines fun, safety, and a unique tiki theme.