Excavator Combo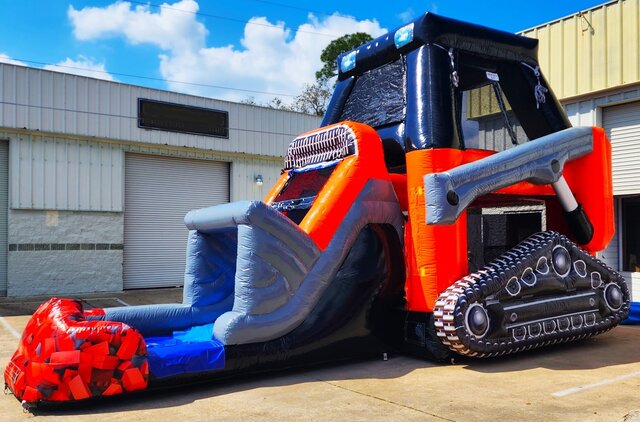 Actual Size: 31' L x 14' W x 17' H
Description
The Excavator Combo: A Construction Adventure for Kids!
Are you ready to take your children's playtime to the next level? Look no further than the Excavator Combo! This incredible playset is not just your average inflatable toy - it's an immersive experience that will capture the hearts of all construction and heavy equipment enthusiasts.
First things first, let's talk about the size of this beast! The pictures may not do it justice, but trust us when we say that it's impressively large. Standing tall and proud, the Excavator Combo will instantly grab the attention of anyone nearby. Its commanding presence alone is enough to excite any child and fuel their imagination.
But size isn't the only thing that makes this combo special. It's packed with features that will keep your little ones entertained for hours on end. The star of the show is the single slide, which offers an exhilarating ride for kids of all ages. As they climb up and slide down, they'll feel the rush of excitement and the joy of conquering new heights.
But the fun doesn't stop there! The Excavator Combo also boasts an inflated pool, adding an extra element of adventure. Kids can splash and play in the refreshing water, creating unforgettable memories with their friends or siblings. It's the perfect way to beat the heat during those hot summer days.
Safety is always a top priority, and you can rest assured knowing that the Excavator Combo is designed with your child's well-being in mind. Made from durable materials, it can withstand the energetic play of even the most enthusiastic little ones. Plus, it's easy to set up and take down, making it a hassle-free addition to your backyard or event.
Whether you're hosting a birthday party, a family gathering, or simply want to create a fun-filled playtime experience at home, the Excavator Combo is a must-have. It will bring out the smiles, laughter, and endless excitement in your "construction & heavy equipment" loving kids. So why wait? Bring the adventure home today!