Frozen 2 Combo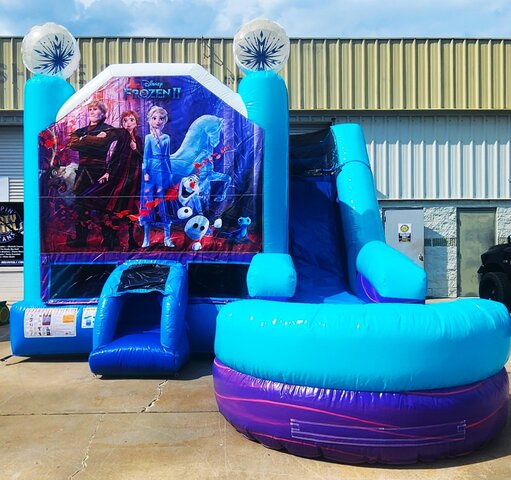 Actual Size: L: 24' x W: 16' x H: 14'6"
Description
Introducing the all-new Frozen 2 Combo, a thrilling twist on the original! This upgraded version offers a fresh and exciting experience for kids of all ages. One notable change is the slide design, which now empties on the outside of the bounce house rather than on the inside.
With its modern and innovative setup, the Frozen 2 Combo promises the same level of fun and excitement as its predecessor. Kids can still bounce, slide, and play to their heart's content. The outside slide adds an extra element of adventure, allowing children to experience the thrill of sliding down and landing outside the bounce house.
This updated design not only provides a unique twist but also enhances safety by keeping the inside of the bounce house clear and free from potential collisions. Parents can have peace of mind knowing that their little ones can enjoy endless hours of entertainment in a secure and controlled environment.
Whether you're hosting a Frozen-themed birthday party or simply looking to add some extra excitement to your event, the Frozen 2 Combo is the perfect choice. It combines the magic of the beloved Frozen franchise with a fresh new setup that will leave kids thrilled and delighted.
Don't miss out on the opportunity to create lasting memories with the Frozen 2 Combo. Book now and let the adventure begin!