HANG TEN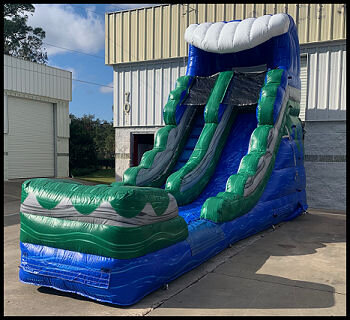 Description
Hang Ten Slide: Experience the Thrill of Catching a Wave on a 16-Foot Tall Single Lane Slide!
Are you ready to ride the waves like a pro? Introducing the Hang Ten Slide, an adventure for thrill-seekers of all ages! Standing at an impressive 16 feet tall, this single lane slide is designed to give you the sensation of catching a wave right in your own backyard.
With its eye-catching design and vibrant colors, the Hang Ten Slide is sure to be the star attraction at any event or party. Whether you're hosting a birthday bash, a summer BBQ, or just looking to add some excitement to your outdoor space, this slide is guaranteed to make a splash.
What sets the Hang Ten Slide apart is its unique wave-shaped design. As you climb to the top, you'll feel the anticipation building. Once you reach the peak, it's time to take a deep breath and get ready for the ride of a lifetime. As you slide down, the wave-like curves will give you the sensation of gliding through the ocean, just like a professional surfer.
Safety is always a top priority, and the Hang Ten Slide is no exception. It is constructed with high-quality materials and features safety netting on the sides to ensure a secure and worry-free experience. Additionally, the slide is equipped with a soft landing pad at the bottom, providing a comfortable and safe landing for riders.
Not only is the Hang Ten Slide a thrilling experience, but it also offers endless opportunities for fun and friendly competition. Challenge your friends and family to see who can ride the wave the fastest or create an obstacle course with other inflatable attractions for an epic adventure.
So why wait for your next beach vacation to catch a wave? Bring the excitement home with the Hang Ten Slide and create memories that will last a lifetime. Get ready to hang ten and experience the thrill of riding a wave like never before!