MEGA HYDRO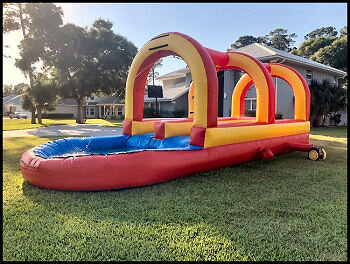 Actual Size: 30' x 8' x 10'
Description
Introducing the MEGA HYDRO Slip 'n Slide: The Ultimate Summer Experience!
Are you ready for an exhilarating adventure this summer? Look no further than our MEGA HYDRO Slip 'n Slide! Designed with thrill-seekers in mind, this two-lane slip 'n slide is guaranteed to take your summer fun to new heights.
What sets the MEGA HYDRO Slip 'n Slide apart from the rest is its impressive height and unparalleled excitement. Standing tall and proud, this slip 'n slide will make a statement at any backyard party or event. With its eye-catching design and vibrant colors, it's sure to attract both kids and adults alike.
But that's not all – the MEGA HYDRO Slip 'n Slide also features a refreshing pool at the end of the slide. Imagine the joy and laughter as you and your friends race down the slippery lanes, splashing into the cool pool on a hot summer's day. It's the perfect way to beat the heat and make lasting memories.
Safety is always a top priority, and we've taken every measure to ensure that the MEGA HYDRO Slip 'n Slide provides a secure and enjoyable experience. The high-quality materials used in its construction guarantee durability.
Whether you're hosting a backyard BBQ, a birthday party, or just want to add some excitement to your summer days, the MEGA HYDRO Slip 'n Slide is the ultimate choice. It's an investment in endless hours of laughter, fun, and unforgettable moments.
Don't miss out on the opportunity to make this summer the best one yet. Get your MEGA HYDRO Slip 'n Slide today and let the adventure begin!