Oasis Combo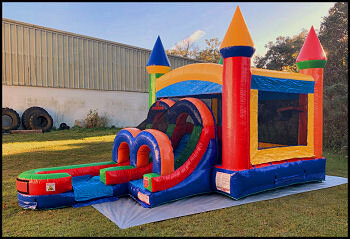 Description
Introducing the Castle Combo: A Versatile and Exciting Inflatable Experience!
Are you in search of an inflatable unit that offers endless fun and excitement? Look no further than our Castle Combo! This inflatable combo is perfect for those who prefer a classic design with vibrant red, yellow, and blue colors. Whether you're hosting a backyard party or a community event, the Castle Combo is sure to be a hit.
One of the standout features of the Castle Combo is its versatility. This unit can be used both wet and dry, allowing you to customize the experience based on your preferences and the weather conditions. Whether you want to splash around in the summer heat or enjoy a dry bouncing session, the Castle Combo has got you covered.
But that's not all – the Castle Combo also comes with a basketball hoop inside! This added feature adds a whole new level of excitement, allowing kids and adults alike to showcase their basketball skills while bouncing around. It's the perfect combination of fun and physical activity, keeping everyone entertained for hours on end.
When it comes to safety, you can rest easy knowing that the Castle Combo meets the highest industry standards. Made from durable materials and featuring reinforced stitching, this inflatable unit is built to withstand hours of play. Additionally, the Castle Combo is equipped with safety nets and secure anchor points, ensuring a worry-free experience for everyone.
Whether you're planning a birthday party, a school event, or a neighborhood gathering, the Castle Combo is the ultimate entertainment solution. Its timeless design, vibrant colors, and exciting features make it a crowd favorite for all ages. So why wait? Bring the Castle Combo to your next event and create unforgettable memories for everyone involved!