PURPLE HURRICANE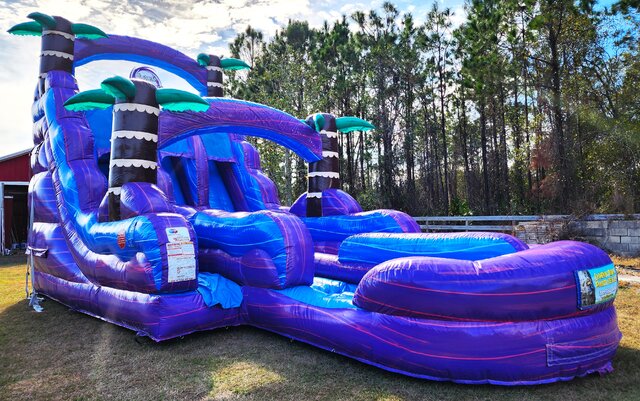 Actual Size: 32' x 13' x 18'
Description
Introducing the Purple Hurricane Slide, standing at an impressive 18 feet tall! We heard your feedback and are excited to bring you more double slides for an exhilarating experience.
The Purple Hurricane Slide is designed to provide endless fun and excitement for both kids and adults alike. With its vibrant purple color, this slide will surely catch the eye of anyone passing by. Whether it's a backyard party, a community event, or a school carnival, this slide is guaranteed to be the center of attention.
Safety is our top priority, and we have taken every precaution to ensure a secure sliding experience. The Purple Hurricane Slide features sturdy construction, including reinforced sides and safety netting at the top, giving you peace of mind while enjoying the ride.
Not only does the Purple Hurricane Slide offer thrilling fun, but it also promotes physical activity and encourages friendly competition. Race your friends down the dual slides and see who can reach the bottom first! This slide is perfect for creating unforgettable memories and fostering a sense of adventure.
Setting up the Purple Hurricane Slide is a breeze. Our team will handle the delivery, installation, and take-down, allowing you to focus on enjoying the event. We take pride in providing exceptional customer service and ensuring your complete satisfaction.
So, if you're looking to add a dash of excitement to your next event, look no further than the Purple Hurricane Slide. With its impressive height, vibrant color, and double slides, it's guaranteed to be a hit with everyone. Contact us today to book this thrilling attraction and create an unforgettable experience for your guests!