Sampson High Striker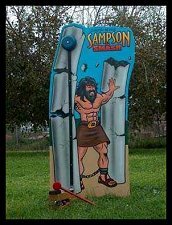 Description
Introducing the sensational Sampson High Striker! Prepare to be amazed by this towering attraction that stands at an impressive height of over 6 feet. Get ready to test your strength and skill as you pick up the hammer mallet and take a swing at ringing the bell.
The Sampson High Striker is a true eye-catcher, drawing attention from all around with its striking design and towering presence. Whether you're hosting a carnival, fair, or any event that calls for excitement, this attraction is sure to captivate guests of all ages.
Step up to the challenge and see if you have what it takes to conquer the Sampson High Striker. As you grip the hammer mallet, feel the anticipation build as you prepare to deliver a mighty blow. With each swing, you'll feel the rush of adrenaline as you aim to reach the top and make the bell ring loud and clear.
Not only does the Sampson High Striker provide a thrilling experience, but it also offers a fantastic opportunity for friendly competition. Challenge your friends, family, or even strangers to see who can achieve the highest score or ring the bell with the most force. It's a guaranteed crowd-pleaser that will have everyone cheering and celebrating their victories.
Whether you're a seasoned high striker enthusiast or a first-time participant, the Sampson High Striker promises endless fun and excitement. So, don't miss out on this incredible attraction that will leave a lasting impression on your event. Book the Sampson High Striker today and let the games begin!