SINGLE LANE RAMPAGE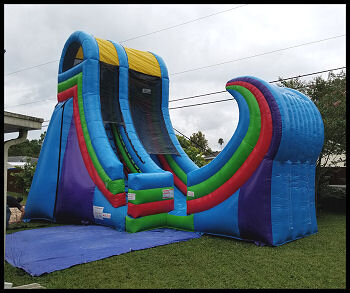 Description
Introducing the Single Lane Rampage Slide! Get ready to be blown away by this jaw-dropping unit that guarantees an unforgettable experience. This slide is not for the faint of heart - it's a thrilling challenge that will leave you breathless.
Prepare to be amazed by the sheer size of this monster slide. Standing tall and commanding attention, it is truly a sight to behold. Its unique design and eye-catching features make it a standout attraction that will leave a lasting impression on all who see it.
Climb up the sturdy stairs, feeling the excitement building with every step. As you reach the top, get ready to take the plunge into pure exhilaration. The slide offers an adrenaline-pumping journey that will have you on the edge of your seat.
But that's not all - as you slide down, you'll be greeted by a wave on the right side of the unit. Feel the rush as you glide over the wave, adding an extra element of excitement to your adventure.
The Single Lane Rampage Slide is the ultimate wow factor addition to any event or gathering. Whether it's a birthday party, corporate event, or community celebration, this slide is guaranteed to be the highlight of the day, providing endless fun and excitement for guests of all ages.
Don't miss out on the opportunity to experience the thrill and excitement of the Single Lane Rampage Slide. Book it now and get ready for an adventure like no other!