SINGLE SLIP N SLIDE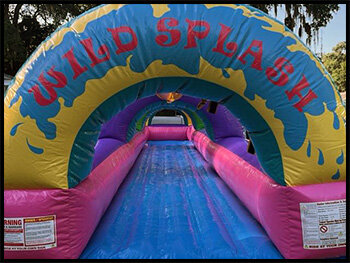 Actual Size: 28' x 8' x 7'
Description
Introducing the Single Slip N Slide - the ultimate source of instant fun for individuals of almost all ages! Get ready to experience an exhilarating ride like no other as you run, jump, and slide your way to pure excitement.
Designed with simplicity and entertainment in mind, the Single Slip N Slide offers an effortless setup that guarantees hours of laughter and enjoyment. With just a few easy steps, you can transform your backyard or any open space into a water-filled adventure zone.
Bring out your inner child and prepare for a wet and wild ride! As you take a running start and leap onto the Single Slip N Slide, you'll feel an instant rush of adrenaline as the water propels you forward. Feel the refreshing splash as you glide across the smooth surface, creating memories that will last a lifetime.
Whether you're hosting a summer party, a family gathering, or simply looking for a way to beat the heat, the Single Slip N Slide is the perfect addition to any occasion. Watch as kids, teenagers, and even adults join in on the fun, relishing in the excitement and thrill of this classic water activity.
Safety is always a top priority, which is why the Single Slip N Slide is constructed with durable materials to ensure a secure and enjoyable experience for everyone.
So, why wait? Embrace the spirit of adventure and create unforgettable memories with the Single Slip N Slide. Whether you're seeking a thrilling solo experience or a bonding activity with friends and family, this water slide guarantees endless fun and laughter. Get ready for a wet and wild ride that will leave you wanting more!