TROPICAL XL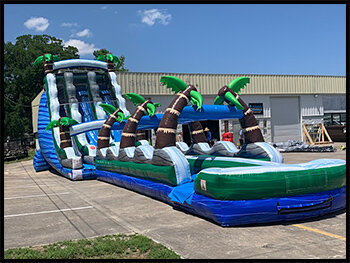 Actual Size: 65' x 18' x 22'
Outlets: 2
Description
Introducing the TROPICAL XL slide - a thrilling addition to our lineup of beloved Tropical slides, now with an extra length and width to take your excitement to new heights!
For years, our Tropical slides have been a crowd favorite, delivering endless fun and unforgettable moments. Building upon that success, we have listened to our customers' feedback and added the TROPICAL XL slide to provide an even more exhilarating experience.
With its increased dimensions, the TROPICAL XL slide offers a longer and wider slide path, allowing you to slide further and faster than ever before. Feel the rush as you glide down the extended slide, propelled by the force of gravity, and experience an adrenaline-pumping adventure like no other.
Not only does the TROPICAL XL slide provide an amplified thrill, but it also retains the vibrant, tropical theme that has made our slides so popular. Immerse yourself in a visually stunning environment, surrounded by lush greenery, vibrant colors, and tropical motifs, creating a truly immersive and captivating experience.
Safety is always a top priority for us, and the TROPICAL XL slide is no exception. This slide has been meticulously designed with reinforced materials, ensuring durability and stability.
Don't miss out on this incredible opportunity to take your slide adventures to the next level. Get ready to embark on an unforgettable journey with the TROPICAL XL slide - the ultimate fusion of thrills, tropical vibes, and endless fun!