UNICORN SLIDE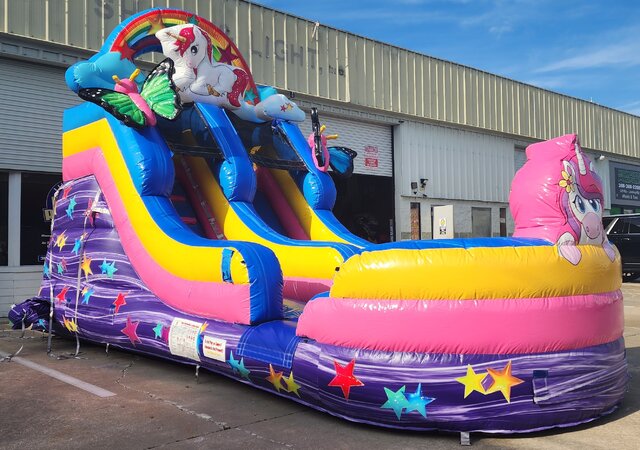 Actual Size: 23' L x 11' W x 14' H
Description
Introducing the Magical Unicorn Slide: A Delightful Adventure for Younger Children!
Standing tall at an impressive 14 feet, the Magical Unicorn Slide promises an enchanting experience for children of all ages. This captivating attraction is specifically designed with the younger ones in mind, ensuring their safety while providing endless fun and excitement.
Immerse your little ones in a world of imagination as they embark on an unforgettable journey down the unicorn slide. With its vibrant colors, whimsical design, and friendly unicorn characters, this slide is sure to capture their hearts and spark their imaginations.
Safety is our utmost priority. The Magical Unicorn Slide is crafted using high-quality materials and adheres to the strictest safety standards. It features sturdy construction, non-slip steps, and secure handrails to ensure that children can enjoy their adventure with peace of mind.
This delightful slide is perfect for various occasions, including birthday parties, family gatherings, or community events. Its compact size makes it easy to set up in your backyard, local park, or any other suitable venue. Bring the joy of the Magical Unicorn Slide to your next celebration and create cherished memories for your little ones.
Not only does the Magical Unicorn Slide provide endless entertainment, but it also promotes physical activity and helps develop essential motor skills. Climbing the steps, sliding down, and repeating the process will keep children engaged while improving their balance, coordination, and overall fitness.
Make your event truly magical with the addition of the Magical Unicorn Slide. Its eye-catching design, exceptional quality, and focus on safety make it a must-have attraction for any occasion. Watch as the joy and laughter of children fill the air, creating a memorable experience for everyone involved.
Let your child's imagination soar on the Magical Unicorn Slide. Order now and bring the magic to your next event!